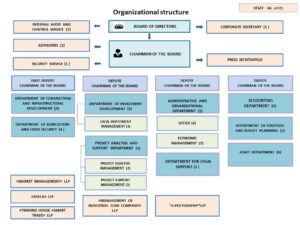 JSC SEC "Aktobe" (hereinafter – the Company) was registered by the Department of Justice of the Aktobe region on November 12, 2010 (certificate No. 1682-1904-01-AO), re-registered on April 28, 2011.
The purpose of the creation of the Company is to promote the economic development of the Aktobe region by consolidating the public and private sectors.
The company carries out its activities on the basis of the Charter of the Joint Stock Company.
Founders: State Institution "Finance Department of the Aktobe Region" – 100% share in the authorized capital. The authorized capital is fully formed in the amount of 8,442,098 thousand tenge.